freezers
Kenmore 28432 Freezer Review
Affordable, but it may be worth spending a few more dollars.
$579.99 MSRP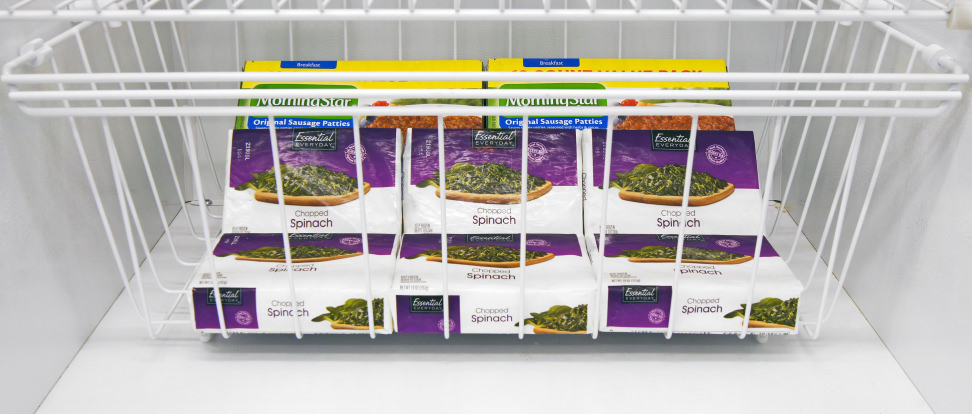 The Kenmore 28432 is better than 23% of the freezers we tested.
It is one of five freezers we have tested under $600.
It is better than 20% of the upright freezers we have tested.
At first glance, the Kenmore 28432 (MSRP $579.99) may seem like a great deal. If you need easy access to more frozen foods than can fit in your refrigerator, a 13.7-cubic-foot upright is usually the way to go. With sale prices close to $430, this Kenmore is cheaper than most of the competition.
Unfortunately, in our tests we recorded temperatures that didn't stay cold enough for optimal long-term food preservation. Plus, it requires manual defrosting.
If you don't want to spend any more on an upright freezer, don't mind doing a defrost every now and then, and you're not storing things for months on end, this Kenmore isn't bad. But if you can afford an extra $100 or so and do serious bulk buying, you should search for something better.
Design & Features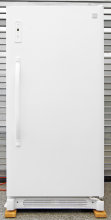 Basic storage
In a lineup of budget upright freezers, the 28432 won't stand out. In fact, it looks more or less identical to the GE FUF14SVRWW, which we've also tested.
The white textured finish is typical, and the finish should help you wipe off fingerprints and dust even if your freezer lives in the garage or basement.
Interior storage is composed of three wire racks and a sliding drawer on the bottom, with lots of shelves on the door for storing smaller items. None of the surfaces are adjustable, however, so make sure you measure before going out to buy the Thanksgiving turkey.
Usability

Checking all the boxes
When it comes to features, this Kenmore is as basic as its overall design. A door lock and interior light are always nice touches, but nothing to write home about.
What's most exciting is the external control panel. Sure, this freezer uses your typically loose 7-point scale, but you won't have to open it up to turn the temperature up or down.
That's great if you're trying to cool a lot of food quickly, but don't want to let any warm air in that would make your freezer have to work harder—especially since this model doesn't have a fast freeze option. Found on pricier models, it rapidly chills a freezer's interior to prepare for an influx of warm food.
Like most budget models, this one requires a manual defrost from time to time. Make sure you consult your product manual for tips on how to do this correctly.
Comparable Products
Before you buy the Kenmore 28432, take a look at these other freezers.
Performance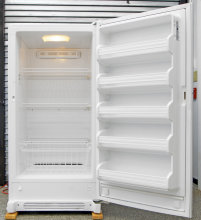 A bit too warm…
In our tests, this Kenmore's internal temperatures got too warm. They didn't fluctuate much over time, but they did waver more than pricier models. Over long periods of time, those factors can lead to the development of freezer burn. That means the money you save by purchasing the Kenmore can be thrown away with spoiled food.
Turning down the thermostat can help with some of those issues, of course, but we prefer products that work optimally when set to manufacturer-recommended settings.
For in-depth performance information, please visit the Science Page
A Questionable Bargain
Sometimes, more is more
Sometimes you really do need to spend a bit more to get a good value, and that's the case with this Kenmore. If you really can't afford more than the $430 retail price at Sears—which is a great price in and of itself—then just make sure you turn down the thermostat several points to overcome most of this model's failings.
If you can stand to spend a little extra, though, seek out an alternative—like the Whirlpool EV160NZTQ, for instance. The layout is comparable, and you lose the external controls, but its performance definitely proved superior in our tests.
Our editors review and recommend products to help you buy the stuff you need. If you make a purchase by clicking one of our links, we may earn a small share of the revenue. Our picks and opinions are independent from any business incentives.