I try to cook healthy, I really do, but I'm betrayed by my roots. My family is Italian and Polish, and most of my favorite cooking techniques don't result in meals that are what you'd call "light." Whenever I do cook healthy, the results usually aren't nearly as appetizing.
Lucky for guys like me, a startup called Orange Chef is looking to make healthy cooking less intimidating, starting with a little gadget called the Countertop. It looks like a wood-and-plastic cutting board, but it's actually a smart scale that connects to an app for iOS.
The app can keep track of the exact quantities and types of food that you're eating.
The app guides you, step-by-step, through healthy recipes, using the scale's accurate measurements to make sure you don't add too much or too little of any one ingredient. But the Countertop doesn't stop there.
It also uses NFC and special smart adapters to connect to Vitamix blenders and Crock-Pot branded slow cookers. Simply place your carafe or slow cooker pot on the Countertop and it will recognize them. Adapters for other brands of appliances aren't available yet, but according to TechCrunch, more partnerships are in the works. Anyway, these accessories aren't required to cook a healthy, tasty meal.
The Countertop also connects to fitness trackers like the Jawbone UP, and services like the Apple Health. With all of these different connections, Countertop is able to make recipe recommendations based on your sleep quality and workout schedule.
Countertop is able to make recipe recommendations based on things like sleep quality or your workouts.
Since the scale weighs all of your ingredients, the connected app can keep track of the exact quantities and types of food that you're eating. You can also teach it which foods you like and don't like, as well as what food allergies you have, to help shape recipe recommendations.
The Countertop connects to your phone or tablet via NFC and Bluetooth LE, has swappable dishwasher-safe tops, and is water-resistant. Though it's powered by AAA batteries, it has an impressive one-year battery life. The only downside appears to be a lack of support for Android and Windows Phone.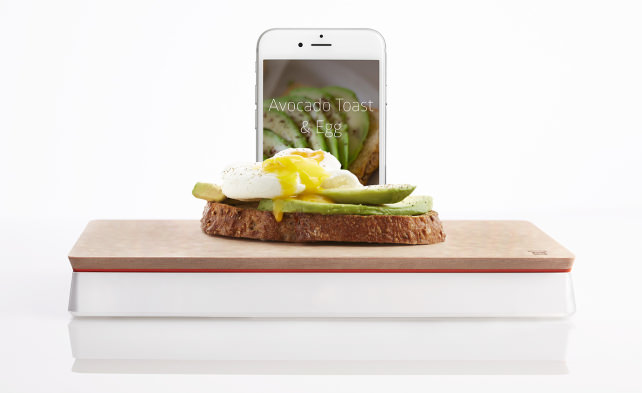 However, the developers still have plenty of time to expand coverage to other operating systems and accessory devices, since the Countertop won't be released until this fall. It's currently available for pre-order at $99.95—50 percent off the retail price. The Vitamix and Crock-Pot adapters are also discounted at $9.95 and $4.95, respectively.
Related Video
Our editors review and recommend products to help you buy the stuff you need. If you make a purchase by clicking one of our links, we may earn a small share of the revenue. Our picks and opinions are independent from any business incentives.
Be in the know! Get Reviewed.com news and reviews straight to your inbox.
Thanks for signing up!