freezers
Kenmore Elite 27003 Freezer Review
It's expensive, but you get everything you paid for.
$1,359.99 MSRP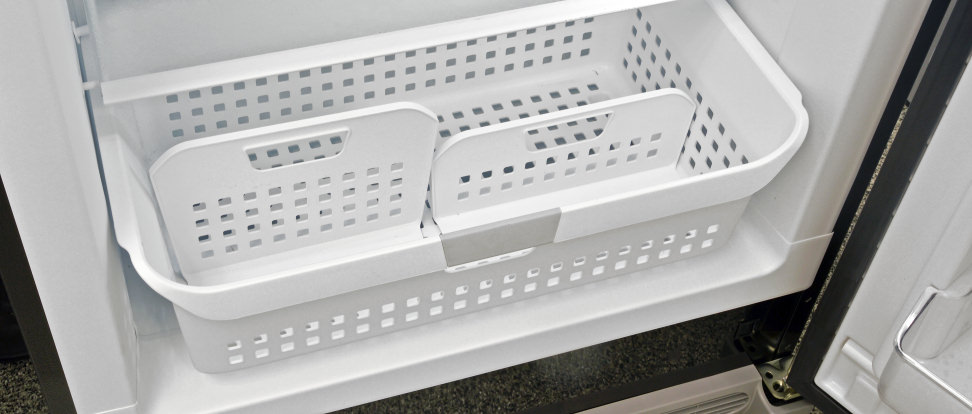 The Kenmore Elite 27003 is better than 76% of the freezers we tested.
It is better than 75% of the freezers we have tested under $1,500.
It is better than 60% of the upright freezers we have tested.
The Kenmore Elite 27003 (MSRP $1,359.99) is pretty darn expensive for a freezer—even a 21-cu.-ft. upright. That said, our tests show this model is among the best to ever come through our labs, and is a huge step up from the last Kenmore upright we tested: the now-discontinued Kenmore Elite 28093.
With high-end design elements like LED lighting, plenty of flexible storage space, and excellent overall freezing, there's very little about this appliance that's not to like. If you've got the cash, and you're hunting for a freezer you don't have to hide in a basement or garage, look no further. And if you don't need a stainless finish, you can buy white (27002) or black (27009) for about $200 less.
Design & Usability
Tall, steely, and cold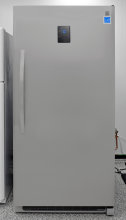 With an advertised 21-cu.-ft. of capacity, this upright freezer is quite large. The outside is an expanse of stainless steel interrupted only by the matching door handle and black touchscreen controls.
Inside, you've got copious amounts of LED lighting. Pair that with the large number of shelves and drawers at your disposal, and there shouldn't be any overcrowded, dark corners to lose your food in.
Speaking of shelves, most freezers don't offer a whole lot in terms of storage flexibility. Not so with this Kenmore: In the main section, all of the full-width shelves are adjustable. Plus, two removable plastic dividers can be snapped into the drawers to make organization even easier.
The door, too, gives you plenty of options. The lowest shelves are fixed in place, but all four of the half-width buckets up top can be adjusted to suit your needs.
Features
Options that are actually useful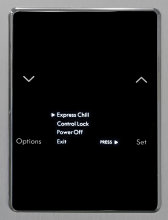 There aren't many extra settings on this freezer, but Kenmore did manage to include a few that are actually quite practical. Express Chill cranks the compressor into overdrive, chilling the inside of your freezer at a faster rate—perfect for when you restocking or setting back up after a full clean.
Conversely, a special Soft Freeze zone located on the door is perfect for storing ice cream and other items that you might not want as cold as a block of steak.
The Control Lock is useful for making sure no one messes with the freezer settings, especially helpful if you keep the appliance in a heavily trafficked area... or just have curious children. Use that in conjunction with the physical door lock, and you've got one secure freezer.
Of course, the best perk of this model is its Auto Defrost function. No pans of warm water, towels on the floor, or screwdrivers in hand with this baby. Just sit back and let the Kenmore do its thing.
Comparable Products
Before you buy the Kenmore Elite 27003, take a look at these other freezers.
Performance
Stable and accurate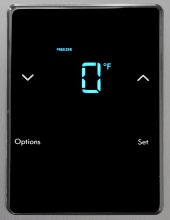 What impressed us about the 27003 was its ability to both steadily maintain temperatures over time, as well as consistently cool the top shelf to the same temperature as the bottom. Most other freezers tend to do really well in just one of those areas, but few succeed at both.
Average temperatures hovered just below 0°F, barely shifting away from that ideal sweet spot regardless of where we placed our sensors.
For in-depth performance information, please visit the Science Page
Pricey, But Practical
It may cost a lot, but this upright cools as good as it looks
Given that some upright freezers can cost less than $450, the Kenmore Elite 27003 might seem overpriced.
With that said, the Sears sale price of $1,149.99 is acceptable for the 27003's combination of looks, accessibility, Energy Star certification, and overall chilling performance.
Of course, if you're not putting it where it'll be regularly seen, the stainless model might not be the best value. The white 27002 and black 27009 versions are both available for $200 less.
Our editors review and recommend products to help you buy the stuff you need. If you make a purchase by clicking one of our links, we may earn a small share of the revenue. Our picks and opinions are independent from any business incentives.