freezers
Frigidaire FFFH21F6QW Freezer Review
This upright encourages a hands-on experience.
$1,099.00 MSRP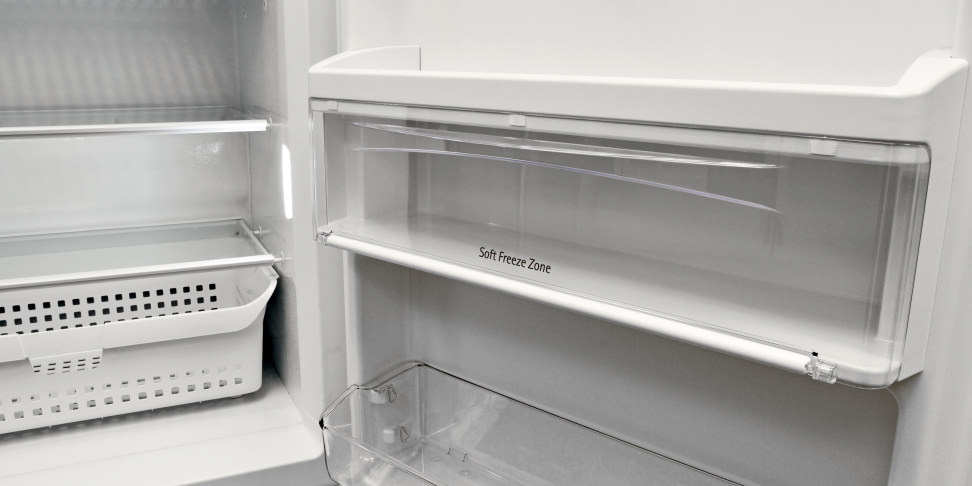 Credit: Reviewed.com / Matthew Zahnzinger
The Frigidaire FFFH21F6QW is better than 82% of the freezers we tested.
It is better than 81% of the freezers we have tested under $1,500.
It is better than 70% of the upright freezers we have tested.
Stand-alone freezers aren't usually that interesting to look at or interact with, which makes the Frigidaire FFFH21F6QW (MSRP $1,099) all the more impressive. Degree-based controls, adjustable shelves, bright LED lighting, and a frost free design makes this one of the most consumer-friendly upright freezers we've tested.
Sure, the space-to-dollar ratio may not be as great as in a cavernous chest freezer, but all those space-consuming shelves make storage more practical by keeping food front and center. If you find yourself opening your freezer more than once a month, this Frigidaire is ideal for easy access.
Even better is the fact that this Frigidaire's chilling performance was highly consistent, which means all the food you store in here should be safe from freezer burn.
Design
Big and tall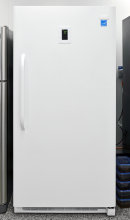 Even though the FFFH21F6QW is nearly identical to the Kenmore Elite 27003, it's only available in glossy white—no stainless option for the Frigidaire here.
Only the smooth plastic handle and a small touch-screen control panel break up the door's broad white expanse. The presence of a degree-based thermostat is always a welcome feature.
Inside, you've got a complement of four adjustable and four sliding drawers. The storage flexibility is great, and there are just enough shelves that no one area should get bogged down by too much food.
The sliding tray is ideal for boxed items like pizza or vegetables. Snap-on, color-coded handles can be used to designate drawers as the meat or fish areas, for instance.
Even door storage is adaptable, with three adjustable half-width buckets in addition to full-width fixed shelves. The Soft Freeze Zone is great for storing ice cream or meat that you intend to defrost later in the week.
Performance & Features
Mr. Freeze would blush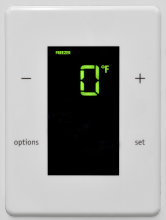 When it comes to consistent freezing, this Frigidaire positively nailed it. Temperatures were perfectly cold, hovering around -1.2°F on average. Deviation over both time and space was less than one degree, which means every shelf, drawer, and distant corner inside the freezer stays cold enough to combat freezer burn.
While freezers tend to be pretty basic, there are a few features to be found on this model. In addition to the traditional door lock, the exterior control panel lets you power down the freezer without unplugging it—great for when you go on vacation. It also lets you activate Quick Freeze, a setting useful for when you're loading the freezer with lots of freshly-purchased food that needs to… well, freeze quickly.
Perhaps the most convenient aspect to this upright freezer is its frost free design. That means no defrosting, no towels and buckets of warm water—you can just leave this freezer alone to do its thing.
For in-depth performance information, please visit the Science Page
Comparable Products
Before you buy the Frigidaire FFFH21F6QW, take a look at these other freezers.
Warranty
Frigidaire provides one-year parts and labor coverage for this upright freezer, which is standard for the industry.
A Chilly Champion
A favorite for frozen food fans
With retailers offering the sizable Frigidaire FFFH21F6QW for just under $900, it's a great pick for families that use freezers for short-term storage.
Excellent, consistent chilling is bolstered by a stylish and flexible interior. A frost-free design is the icing on a very cold cake, and one that we encourage consumers to get a slice of—especially if it goes on sale.
Our editors review and recommend products to help you buy the stuff you need. If you make a purchase by clicking one of our links, we may earn a small share of the revenue. Our picks and opinions are independent from any business incentives.