freezers
Frigidaire FFFH17F2QW Freezer Review
A freezer that does its job, and does it well.
$565.20 at Home Depot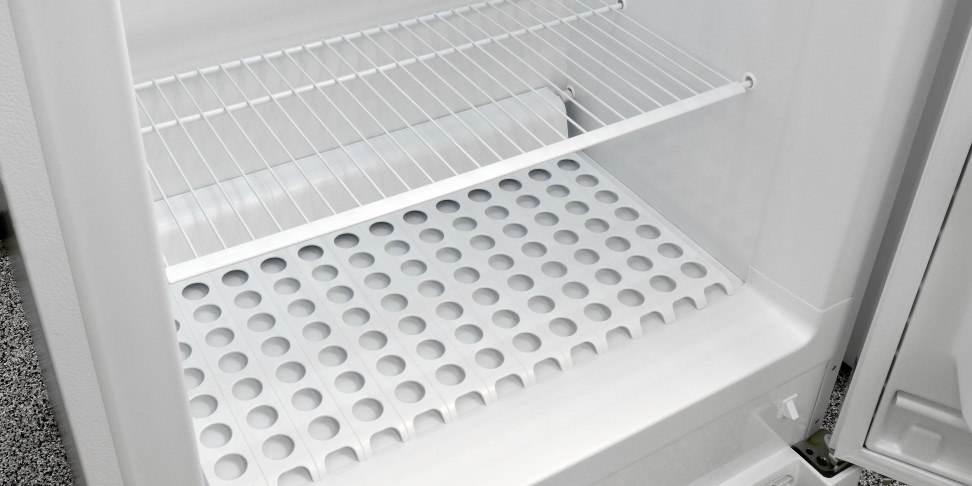 Credit: Reviewed.com / Matthew Zahnzinger
The Frigidaire FFFH17F2QW is better than 100% of the freezers we tested.
It is better than 100% of the freezers we have tested under $800.
It is better than 100% of the upright freezers we have tested.
The Frigidaire FFFH17F2QW (MSRP $799) is one excellent upright freezer. In fact, it does everything right: At 16 cu. ft., it's perfectly sized for most households. As an upright, it's easier to organize than a chest freezer. It's also Frost Free, so you don't have to worry about defrosting. And on sale for $565, it's cheaper than most similarly-sized uprights.
Best of all, our performance tests revealed just what we always want to see in a freezer: cold, consistent temperatures. That's the best way to keep food from getting freezer burn, and it proves that the FFFH17F2QW also excels at food preservation.
If you're in the market for an upright freezer, this is the one to buy.
Design & Usability
A glossy expanse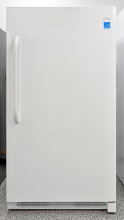 The FFFH17F2QW's front is glossy and white, interrupted only by the handle and a pale Frigidaire logo. It's bland—but then again, freezers are typically kept in a garage or basement.
Down at the bottom, a small green indicator light serves as a helpful reminder that the freezer is on and working. On the left side by the door handle, you'll find the Frigidaire's only extra feature: a door lock.
Inside, LED bulbs shine pale blue light down onto a set of wire shelves. When the freezer is full of food, the light gets blocked. The shelves are just shallow enough to accommodate a large amount of food but not so deep that you could easily lose something.
All of the wire shelves can be adjusted, but there's only one extra shelf slot. As such, your customization options are limited in the main section. On the door you'll find five large, fixed shelves.
Controls & Performance
Low-tech controls with high-end freezing
Unlike some upright freezers—like the pricey but attractive Kenmore 27003—which feature electronic external temperature controls, the FFFH17F2QW's thermostat is just a basic dial, the same kind we find on many basic chest freezers. It's located inside the freezer on the back wall, down by the lowest shelves.
For the purposes of our tests, we set the 0-7 thermostat to 4. Normally, we'd suggest you turn it down a bit for optimal performance. While that is still true for the FFFH17F2QW, you'd also be fine leaving it at the recommended manufacturer's setting.
Temperatures inside this upright were quite chilly throughout, with an overall average of -2.8°F. Keeping temperatures below 0ºF is how you can prevent freezer burn, and only a few warmer spots crept that high.
Temperatures inside this upright were quite chilly throughout.
What's more, fluctuations over time and between any two points in the interior were minimal. That's great news for long-term food storage, as consistency helps reduce the risk of freezer burn.
For in-depth performance information, please visit the Science Page
Comparable Products
Before you buy the Frigidaire FFFH17F2QW, take a look at these other freezers.
Frozen Excellence
Simple, functional, and effective, it's the freezer to buy.
If you're looking for an upright freezer that will hold enough food for a family, minimize freezer burn, and avoid frost buildup, this is the one for you.
It's 16 cubic feet, and it also has an automatic defrost function. Unless you consider LED lighting an extra perk in an upright freezer, the Frigidaire FFFH17F2QW is completely devoid of bells and whistles.
But, at $565 on sale, it's a great deal. And our tests showed that excelled at preserving food. In fact, it's one of the best freezers we've ever tested.
Our editors review and recommend products to help you buy the stuff you need. If you make a purchase by clicking one of our links, we may earn a small share of the revenue. Our picks and opinions are independent from any business incentives.