freezers
Danby DUF408WE Compact Freezer Review
It's cheap and it works. Enough said.
$323.00 MSRP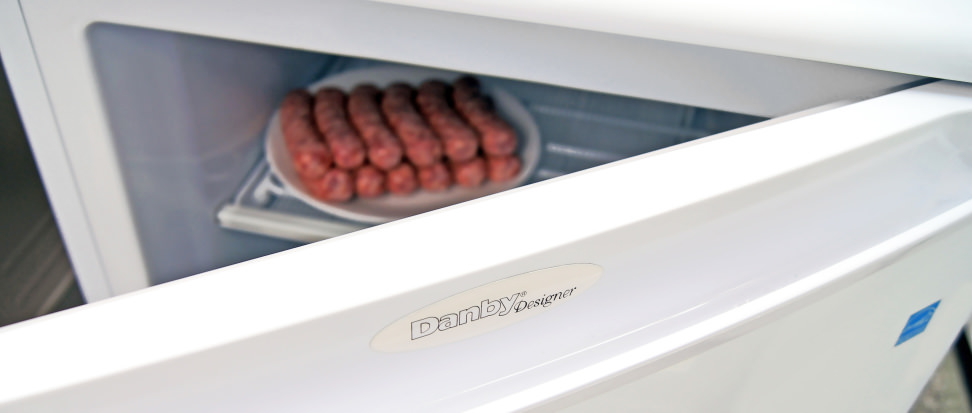 The Danby DUF408WE is better than 29% of the freezers we tested.
It is better than 30% of the upright freezers we have tested.
If our time with the Danby DUF408WE (MSRP $323) is any indication, a mini freezer is far from perfect but is still a serviceable machine... as long as you don't expect stellar performance.
The Danby has no ancillary features to speak of, and a very basic design. We recorded some issues with temperature consistency throughout the interior from one shelf to another, and you'll need to fiddle with the controls to get the unit sufficiently cold.
That said, it was really consistent over time, and if you can get it sufficiently cold enough, this could serve as a reliable little icebox for folks who are short on space but need some extra frozen food storage.
Design & Features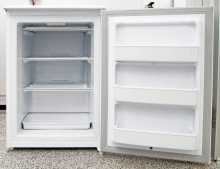 Unexpectedly sturdy
The Danby is a very basic product. A glossy white finish masks fingerprints and other smudges, while the recessed handle gives the whole machine a smooth appearance that keeps it from looking too cheap.
A scratch-resistant top makes it a viable choice for folks who plan to leave it on the ground, where it could double as an end table.
Inside, the shelves use a coiled structure as opposed to traditional wire tines. As a result, the shelves feel quite sturdy, and there's essentially no risk anything will fall through.
Usability
Usability? What's there to use?
There's little to say about the Danby's usability. Without any features, interacting with this mini freezer is always straightforward. Its small size means actually reaching for food is easy, and given the lack of shelf customization, grabbing food or putting food in is really all you'll ever have to do with it.. aside from defrosting, that is.
The controls are located inside the freezer near the top. The rotating dial is stiff enough that you shouldn't move it accidentally, but loose enough that adjusting the controls for defrosting or any other temperature changes won't be a hassle. The removable pan in the bottom is a nice touch, but it's not a game changer.
Comparable Products
Before you buy the Danby DUF408WE, take a look at these other freezers.
Performance
Bring on the freezer burn
When testing the Danby, we put the controls at 4, the midline manufacturer-recommended setting. The result? Don't listen to the manufacturer. More often than not, temperatures clocked in anywhere between 2-6°F. That's well above 0°F, which means you'll want to crank this bad boy down. Fortunately, it was very energy-efficient when set to 4, which means you should be able to afford some extra chilling power.

Despite its small interior, the Danby had some trouble maintaining even temperatures from one shelf to the next. Fortunately, it's very consistent over time. As long as you don't regularly move your TV dinners from one shelf to another, they should be alright.
For in-depth performance information, please visit the Science Page
Niche, Not Luxury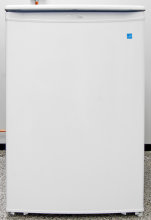 Make sure you really need it
The Danby DUF408WE definitely has some strong aspects working in its favor: The storage space is accessible, long-term temperatures are very stable, and it's exceptionally energy efficient. That said, it'll take some fiddling with the controls before the unit gets cold enough to store anything more sensitive than a Hot Pocket.
With most retailers asking $240 or more for the Danby DUF408WE, plus shipping, you're going to want to make sure you really need a separate mini freezer before buying.
Many budget chest freezers are available for as little as twice the cost, and you get at least three or four times the storage capacity. You'll need to be both hurting for space and craving some frozen pizza to make this a worthwhile purchase.
Our editors review and recommend products to help you buy the stuff you need. If you make a purchase by clicking one of our links, we may earn a small share of the revenue. Our picks and opinions are independent from any business incentives.